Bridgewater, CT – September 20, 2017
An anticipatory crowd of people of all walks and ages gathered pre-sunset to celebrate the season's close and attend an educational Falconry and Raptor event fundraiser for the Bridgewater Land Trust (BWLT) in collaboration with Bridgewater's local Burnham Library, September 16, at local host Steve Shabet's Sunny Meadow Farm, 66 Northrup Street.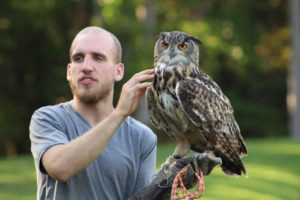 Close to 100 happy-go-lucky guests free-roamed the farm, barns, greenhouse, and farm stand, and made friends with the resident peacocks pre-show while enjoying a bountiful sponsor-donated buffet featuring local beef- burgers freshly prepared by Deb and Bill Stuart, Jr. from nearby Stuart Family Farm before a leisurely hike (or golf-cart ride!) down to the farm's forest-side pond for the main attraction, a live bird demo given by Tom Cullen's TC Management, Inc.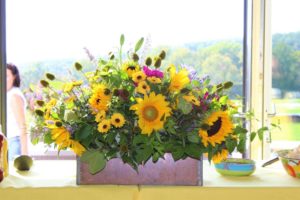 Cullen and team delivered a fascinating fact-filled show with a rotation of species on display and performing hunting maneuvers –including two of the majestic wild-winged stars spontaneously taking liberty to fly off-script to hang out for a bit in the surrounding trees; a beautiful, if comical and unplanned, reminder of the nature of wild things to behold, and their habitats to preserve.
The Bridgewater Land Trust extends thanks with deep appreciation to our sponsors, loyal and tireless volunteers, hosts, members and attendees. We'd love to have you join us again to celebrate and steward the land.
Our Sponsors: Please take a minute to click thru and visit their sites, and thank them for their support in our shared community.
The Bridgewater Land Trust was founded in 1987. A non-profit organization administered by town residents, the Land Trust supports a variety of conservation and education activities aimed at protecting Bridgewater's natural resources. We welcome your comments and questions. BWLT Board and members are happy to discuss future sponsorship, legacy, support events and donation opportunities at all levels.
Contact:
Dawn Burdick, Administrator
Bridgewater Land Trust
P.O. Box 8
Bridgewater, CT 06752
860.355.8233