Bridgewater Land Trust Partners With Eversource
New Trail Network Underway in Bridgewater
The BWLT is pleased to announce that we have signed a license agreement with Eversource Energy, giving us passive recreational use of a pristine and beautiful parcel of land in Bridgewater. The 80 acre piece is located on the east side of Lake Lillinonah and south of Tappen Road. It will soon be open to the public with a new marked and mapped trail network.
The land is ideal for hikers as it features old growth forest, stone walls, impressive rock outcroppings, vernal pools, very few invasive species and a scenic stretch along the lake. In addition, this land has been identified by the Northwest Connecticut Land Conservancy as a parcel with high conservation values due to climate resilience, core forest, critical habitat, threatened species and connections between protected areas and forested areas.
Gillian Carroll the Land Management Administrator for Eversource commented on the new partnership: "Eversource is pleased to collaborate with the Bridgewater Land Trust and the Town of Bridgewater by offering a formal use of Eversource's forested 80-acre open space parcel in order to engage the trail community while promoting passive recreational use and land conservation within an established trail system. By partnering with our neighbors, the Land Trust and the Town, we can continue to demonstrate our vision, values and carry out environmental stewardship with the Bridgewater Land Trust, who will be managing the property with Eversource, through a license agreement. This will enable the property to be utilized with oversight and assist in mitigation of environmental impacts as well as promote public recreation and educational opportunities. We are beyond excited to begin this endeavor and create a lasting partnership"
The Land Trust has engaged Hunter Brawley, of Brawley Consulting Group (www.brawleycg.com) an experienced consultant in land conservation, to assist in the creation of the trail network.  Mr. Brawley stated: "This project spearheaded by Bridgewater Land Trust is an excellent opportunity to collaborate with other conservation stakeholders to develop and promote a public hiking trail system in Bridgewater. The trails will highlight prime forestland and wetlands along the Housatonic River with access to one of Connecticut Forest & Park Association's Blue-blazed hiking trail and The Nature Conservancy's Sunny Valley Preserve."
Julie Stuart, Executive Director of the Bridgewater Land Trust, expressed thanks to Eversource for this opportunity. "Not only will the public benefit from passive recreation in a beautiful natural area, we also know that this land will remain open and unspoiled for at least 10 years and likely much more. We are grateful to Eversource for allowing us to be the long term stewards of this impressive land."
The work to create, map and mark these trails will begin in August. The plan includes partnerships with other conservation organizations in order to link this network with trails over contiguous protected properties.
The Bridgewater Land Trust was founded in 1987. A non-profit organization administered by town residents, the Land Trust supports a variety of conservation and education activities aimed at protecting natural and working lands in Bridgewater. For more information visit our website at www.bridgewaterlandtrust.org.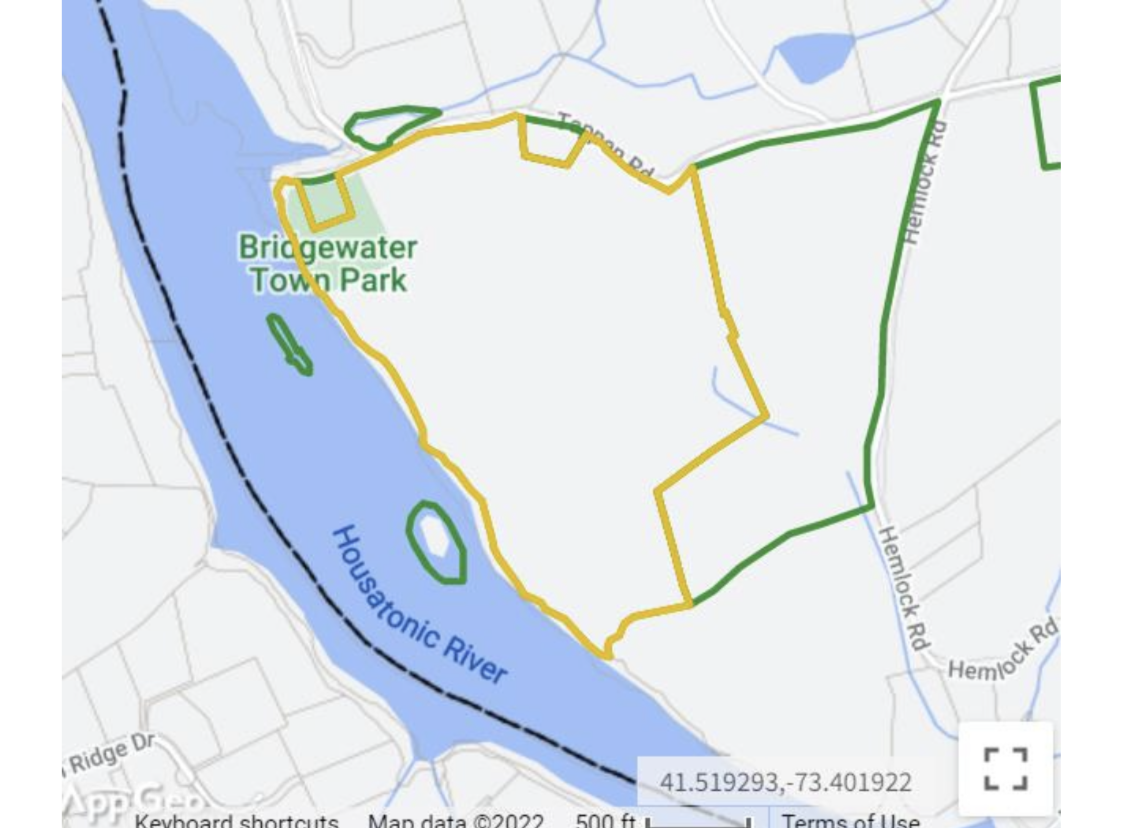 The 80 acre parcel is outlined in yellow.