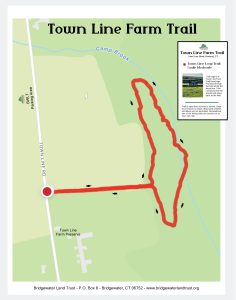 Town Line Farm Trail
Enjoy this 1 mile looped trail near our Town Line Farm Preserve. The trail has one moderate hill with views of old stone walls, mature hardwood forest, large rock outcroppings and a section along Camp Brook. Click below to access the map.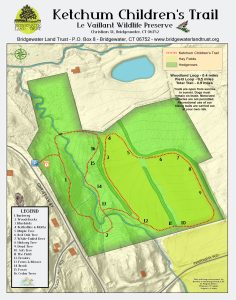 The Ketchum Children's Trail
The 17 acre Le Vaillant Wildlife Preserve (accessed along Christian Street)  is home to the Ketchum Children's Trail which is unique because of the many educational "stops" (nature signs) along the trail. The trail includes a wooded loop and a loop around two large meadows.  Click below to access the map.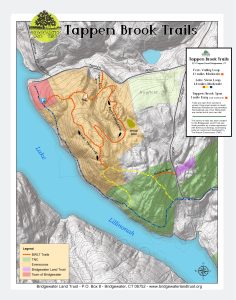 Tappen Brook Trails
This new trail network can be accessed from the Bridgewater Town Park at 221 Tappen Road.  There are a series of trails that feature lake views, glacial erratics, stone walls, meandering streams and a plethora of native ferns.  Click below to access the map.